Independent Venue Week may be over, but our commitment to venues of all kinds continues - this week we were the only ticketing company to be amongst the founder members of the Music Venues Alliance, fighting for the protection of the UK's venues and trying to ensure as many people have access to live entertainment, performance and culture as possible.
Continuing on this theme, today we shine a light on another of the UK's great venues - this time it's the Bedford in Balham, London, something of a breeding ground for some of Britain's most successful singer-songwriters - not to mention long-running comedy nights, clubnights, dance classes and even the occasional Pagan festival.
Here's every event we currently have listed at The Bedford. - not only can you see current events here, but if you're a registered Ents24 user, you can track the venue to be informed when new events are added.
Vital stats:
The Bedford. 77 Bedford Hill, Balham, London SW12 9HD
Capacity: 80 in the Tavistock Room, 150 in The Ballroom, 250 in The Theatre
Live music Mon - Thurs, live comedy/clubnights Fri + Sat - plus regular dance classes and the occasional pagan festival!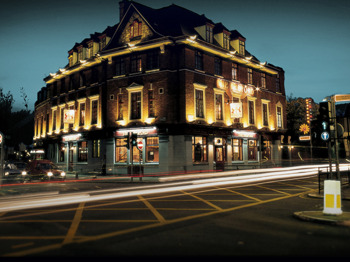 We spoke to Tony Moore, Director of Music, Art and Development at the Bedford about the live music industry, his tips for the future and his (understandable) refusal to give us any classic Bedford gossip!
When was the venue first established?
The Bedford was built around 160 years ago and has always been a centre of entertainment, but I took over bookings 12 years ago.
Has the venue gone through any major changes since it opened (location, renovation, style of music etc)?
The venue has been renovated twice with major changes over the last decade and then of course there is constant upkeep both decoratively and with the gear we use. We are known primarily as a venue for singer/songwriters and acoustic music, but we have also opened the venue up to special events that stretch our normal remit - Last year we hosted a progressive rock festival, Ska nights as well as working closely with Rock The House as the location for their finals.
Which artist that's performed at your venue has gone on to be the best known?
Ed Sheeran, Newton Faulkner, Amy Macdonald, KT Tunstall, James Morrison, Michael Kiwanuke and Paolo Nutini have all done their early shows with us.
Which artist that's performed at your venue deserved/deserves to be better known than they are?
The Dunwells, Rubylux, Jake Morrell Band, ILONA
Do you host events other than gigs or clubnights? If so, let us know what kind of events they are?
The Bedford is one of the most multi purpose venues around with regular dance classes (Swing, Tango, Salsa and more) Comedy Nights, Private parties, Pagan festivals, Local church meetings and performances. We are proud to serve the local area as well as thrilled to be a real destination for many people.
If you could change one thing about the live music/entertainment industry, what would it be?
I would like local government to understand and embrace the concept that small venues are the fertile soil in which the future of our music industry is nurtured. We are often seen as both capable of just 'getting on with it' ourselves (which many are not) as well as possibly discriminated against for providing an entertainment that doesn't seem to rank as important to protect as classical music (for example)
What's been your proudest moment working at your venue?
Seeing some of the very young artists cut their teeth and learn their craft on one of our stages and then watch them achieve great international acclaim.
What's the best event you've put on in the last month?
We have only just started back this month, however I played a last minute set as a performer in my own right sandwiched between the great Mo Michael playing a rare acoustic set and The Jake Morrell Band that I predict big things for.
And finally, any infamous stories related to your venue that you can tell us?
None that I can put in print!
Online details:
www.thebedford.co.uk
www.facebook.com/thebedfordlive
www.twitter.com/thebedfordlive