One of the most important things to us at Ents24 is providing clear information about live entertainment, so that as many people as possible can enjoy the music, comedy, sport, theatre and other live events that they want to.
The lack of access and clear reliable information for deaf and disabled people wanting to attend events is an issue that impacts on millions of people in the UK. It can lead to potential gig, comedy or theatre-goers unable to enjoy live entertainment, either because access isn't set up, or because information about the event or venue is confusing, contradictory or incomplete.
Luckily, there are charities like Attitude is Everything, who campaign to improve access and to help venues and companies provide clear, reliable information. To this end, they created a Charter of Best Practice, which shows venues and companies how to improve their info and access, and awards them Bronze, Silver or Gold status for doing so. Click here for a guide to exactly what a venue has to do to achieve Bronze, Silver or Gold.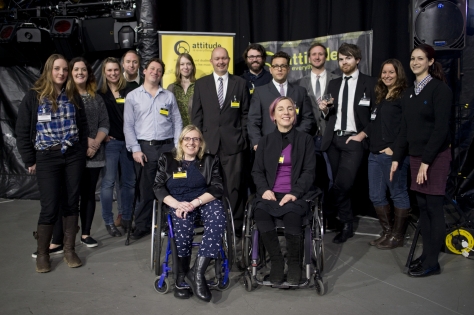 The team at Attitude is Everything
---
We decided it was time we did more at Ents24, so we've been working with Attitude is Everything, and today we've revamped our site to improve the information we offer.
Firstly, we've created a Disabled Access Venues link. This link shows all the events currently listed at venues that have been certified Bronze, Silver or Gold by Attitude is Everything - so that you can be confident every venue offers things like accessible parking near the venue, level access from point of entry to point of performance/toilets, and everything listed under Bronze here. You can also select ' Disabled Access Venues' from our list of filters to find those events.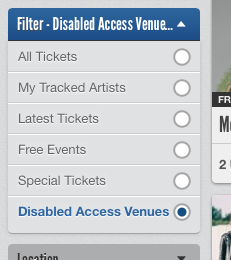 Secondly, we've added information to all the venue pages to let you know which have been certified Gold, Silver or Bronze - so you have an enhanced idea of the level of access, information and support to expect when browsing the thousands of active venues we list.
In addition, the venue pages for the 19,000+ active venues we list carry venue contact information for almost every one, so that any additional queries can be asked and hopefully answered as easily as possible.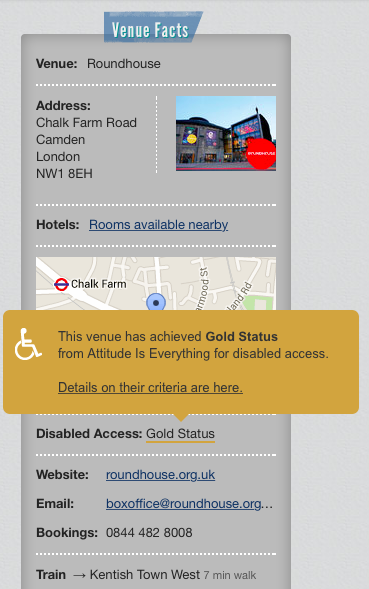 There is of course more to be done - we are looking into the way tickets for disabled people are offered, making the site more screen-reader compatible and adding certification to the festivals we list, as well as the venues - but we're happy to be taking a step in the right direction.
---
As part of this venture, we also spoke to Attitude is Everything's CEO, Suzanne Bull MBE, to find out how the charity started, the most common misconceptions the charity tackles, and how they got Stevie Wonder involved...
How and when did you first get involved with Attitude is Everything?
I originally established Attitude is Everything in 2000 as a pilot project, as a means to promote inclusivity for deaf and disabled fans and to work with the UK's live music sector to improve access to gigs and festivals. Fifteen years on and we are now a registered charity and one of Arts Council England's National Portfolio Organisations.
What are the most common misconceptions about deaf and disabled people's access to venues?
The most common misconceptions are that 'disabled' = 'wheelchairs' and that 'access' = 'expensive'. In actual fact, of the 12m registered disabled people in the UK, fewer than 10% are wheelchair users. Disability covers a range of issues that can be applied to physical and mental health.
Similarly, 'access' itself is a pretty broad term. With live music, it covers pretty much the moment a fan buys a ticket, to the moment they leave a venue - including their experiences buying drinks, parking, using the toilet, how information is displayed and how welcome they are made to feel.
Ultimately, what Attitude is Everything is campaigning for is inclusion. We believe that music should be without barriers and that Deaf and disabled people should be able to participate as audience members, employees or artists at any live music event of their choice.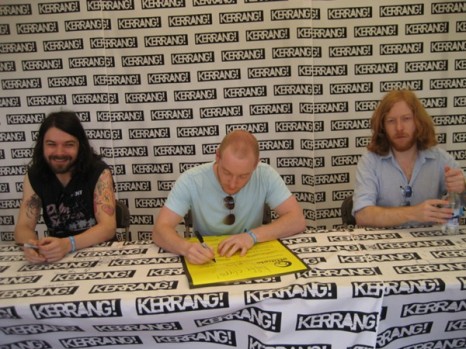 Biffy Clyro pledging their support to Attitude is Everything
---
What are the key achievements of Attitude is Everything to date?
Where Attitude is Everything has really been truly effective is by helping decision makers in the music industry understand the importance and benefits of improved access. We have built some really fruitful partnerships over the years.
However, in terms of individual achievements the recent 100th sign-up to our Charter of Best Practice, a process where venues and festivals publicly commit to improving their accessibility long term, was a really big one. As well as the festivals like Glastonbury and Reading, those signed up to the Charter include brilliant small venues like The Boileroom in Guildford or Manchester's Band On The Wall - and last month we were really excited to be part of Venues Day, and to talk to hundreds of small venues about how we can work together in the future.
Other highlights include the development of our Access Toolkit that was awarded the London 2012 Inspire Mark, and also the #MusicWithoutBarriers awareness campaign that we launched last year and was supported by many great artists including The Cure, Franz Ferdinand, Robert Wyatt, Alt-J, Belle & Sebastian, Stevie Wonder, Chvrches, Enter Shikari, Frank Turner, Villagers and Mystery Jets.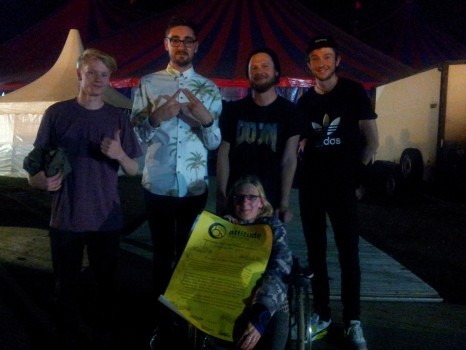 Alt-J signing up to support the cause
---
Of course, providing adequate access and facilities is also beneficial to the venues carrying it out - can you give some examples?
We have strong economic evidence that improving access will benefit the bottom line of a festival or venue. Promoters that work with Attitude is Everything invariably see a positive impact on ticket sales. For instance, Academy Music Group, who run 14 venues across the UK, have increased ticket sales to disabled customers by 33%. Reading Festival more than doubled its disabled audience in a single year. In 2013, more than 70,000 disabled people attended venues and festivals that are signed up to the Charter of Best Practice, generating £3.5m worth of ticket and concessionary sales.
Is there a particular landmark or goal you want to achieve (e.g. the fact you just signed up your 100th venue)  in terms of number of venues, legislation etc?
We'd love to increase the number of Charter venues and festivals and, following Venues Day in December, we are already having a number of encouraging conversations with small venues around the UK.
Another area where were are seeing progress is ticketing. Last January, our State of Access report highlighted what an important issue this is for disabled fans, and that 83% of those we surveyed said that they had been put off buying tickets because the process was inaccessible - typically because it involved having to phone a dedicated phone line, rather than having the option to buy them online.
Since then, Attitude is Everything have been instrumental in the formation of a working party set up with Society of Ticket Agents and Retailers to find solutions to these issues. Something we hope to have good news to report about soon!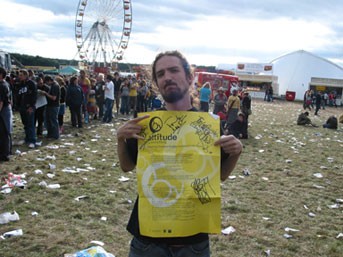 Frank Turner with Attitude is Everything's manifesto
---
Are there any satellite organisations campaigning for related things in live music that you work with or are aware of?
In terms of live music, Attitude is Everything are recognised as leaders in our field, but there are fantastic organisations that campaign for access in other areas - for instance, the work that Level Playing Field does on behalf of disabled sports fans.
If venues, artists or members of the public want to help, where should they start?
A good start would be to visit www.attitudeiseverything.org.uk and get in contact with our team.
Obviously we're keen that as many venues as possible sign up to the Charter, but having artists and fans support our work is equally crucial. Attitude is Everything has a growing network of mystery shoppers that visit Charter venues and festivals, and whose findings and insights are invaluable to our work. And we always welcome more! Similarly, we'd love more artists to pledge their support to #MusicWithoutBarriers, and we never turn down donations!
But ultimately, access is an issue where everyone should be involved - venues, festivals, fans, artists, music businesses and policy makers. Only by working together will we reach Attitude's goal of total inclusion and music without barriers.