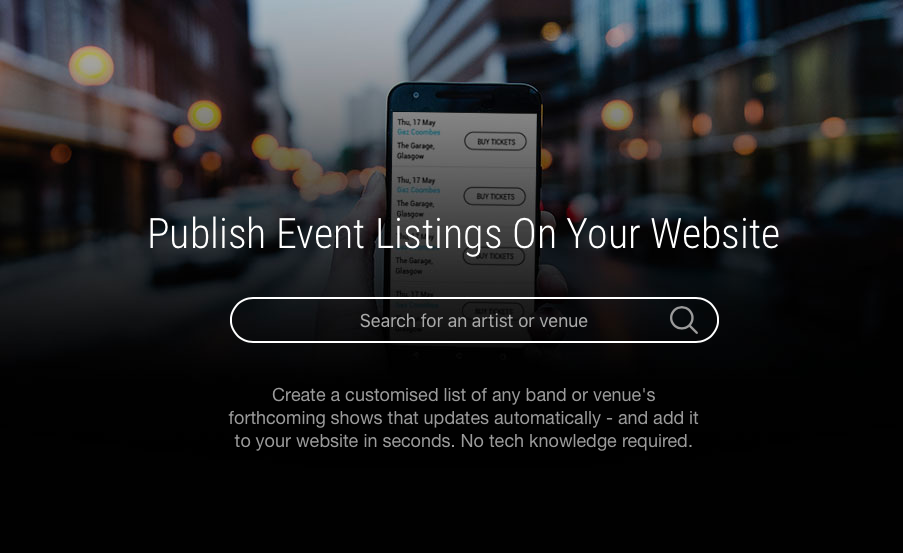 We introduced widgets a while ago to allow anyone to add our comprehensive listings to their website - but we're pleased to (re)introduce our new improved widgets, making it even easier to add a band, artist, venue or region's forthcoming shows to your website for free.
Who are they for?
Bands, artists, comedians and their representatives that want to list all their gigs on their own website, with reliable links to tickets, without having to add every gig themselves

Venues that want to provide gig-goers with a convenient list of everything they have coming up, that automatically updates itself

Anybody who wants to provide a list of shows coming up near to their town or postcode - perfect for fansites, local press sites, tourism or accommodation sites wanting to show people what's going on near you.

Anyone currently using a listings tool that is missing dates out, doesn't look right, keeps running out of tickets or is causing or suffering from technical problems

Artists, bands, comedians or representatives that don't have their own website, but want a page they can send fans to, to get their latest tour dates and buy tickets.

People who want to add gigs to their website but don't have any web, tech or coding knowledge.

Literally anyone else - they're available and free to anyone who wants to use them.
Take a look at widgets in action on comedian Craig Campbell's site, or Jon Richardson's, or Kerry Godliman's.
What do they do?
They pull accurate, up to date event information from Ents24, the UK's biggest live guide, automatically updating as new shows are announced. If you've been adding your own tour dates manually, you can add the widget to make sure you never need to add a UK date again. We add around half a million new shows to Ents24 every year.

They allow you to customise the display settings, images, colours etc to ensure the widget matches your existing website.

They can be installed even if you don't know how to copy and paste code - our artist and venue widgets will provide you with a link when you're done. Simply send visitors to your site to the link and they'll find all your gigs.

We work with all major ticket agents, so regardless of who you use to sell your tickets, widgets point to a reliable source of tickets - and if one agent runs out, we simply redirect to the next agent with tickets. We also list shows that are free entry, to ensure all your gigs show up. No more fan frustration, dead ends, broken links or lost ticket sales!

Did we mention widgets are entirely free to use?
How do I get started?
First, choose which kind of widget you want:
If you want a widget that shows all listings for one band, performer or venue, click 'Create and artist or venue widget' below.
If you want to show gigs/shows happening in a certain area or region (eg. all comedy shows within 7 miles of Bath), click 'Create a regional widget'.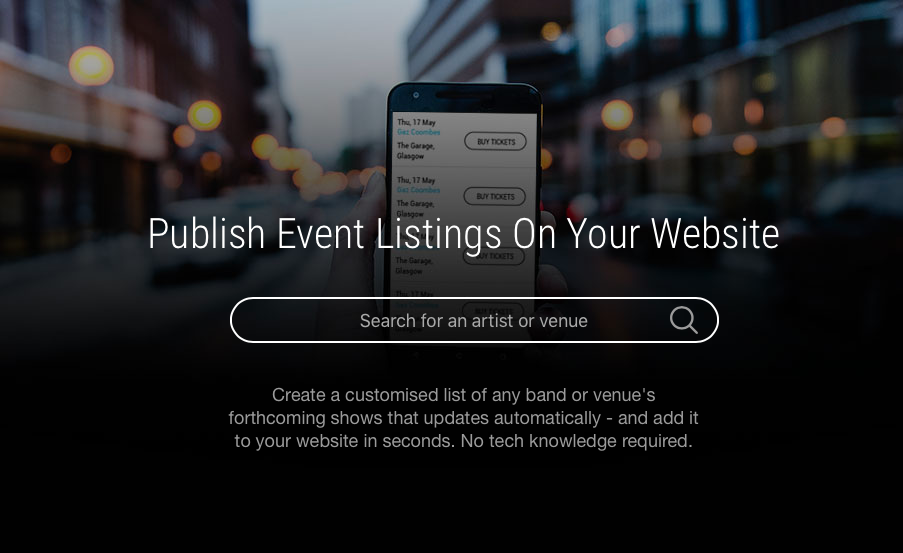 Once you click, you simply select a band, artist or venue, customise your widget, and it's ready to use instantly.
Once you click, you'll be prompted to pick a town, city or postcode, and then you can customise your widget and have it ready to go in seconds.
---
Once you've set up your widget, why not drop us a line at blog@ents24.com. If we know you're using a widget, we may well select your band/artist/shows for some additional promo to the 2 million people that rely on us for info and tickets each month.
Likewise, if you run into any difficulties or have any widget-related questions, drop us a note at blog@ents24.com and we'll be able to help you out.