This week, we find out more about Liverpool Empire Theatre.
We spoke to the team behind this historic venue, who tell us about their impressive facilities, the opening of hit musical, Wicked (starting Wednesday 7th March), and how the venue almost became a parking lot!
See full listings for Liverpool Empire Theatre.
Photo: Claire Jennings
Vital stats
Liverpool Empire Theatre, Lime Street, Liverpool, Merseyside, L1 1JE
Established: 1925
Capacity: 2,381 (seated)
When was the venue first established?
The current building opened in 1925, but there has been a theatre on this site since well before that. In October 1866, a theatre named The Prince of Wales Theatre and Opera House opened in Liverpool, on the same site as the current venue on Lime Street.
Has the venue gone through any major changes since it opened (location, renovation etc)?
In 1999, the venue completed work on a stage extension and massive refurbishment to backstage areas, to allow the theatre to accommodate the biggest and best touring productions. At this time, new Front of House facilities - including extended provision for people with access issues - were unveiled. In 2000, the venue had acquired additional land adjacent to the original building, and built brand new Front of House facilities into a large extension. More recently, the venue has opened its own facilities to serve food, the Lime Street Bistro, and refurbished its two largest bars, the Piano Bar and the Circle Bar. Customers can now feel like a VIP at the theatre by booking into our Ambassador Lounge for an exclusive environment to enjoy the interval and pre-show.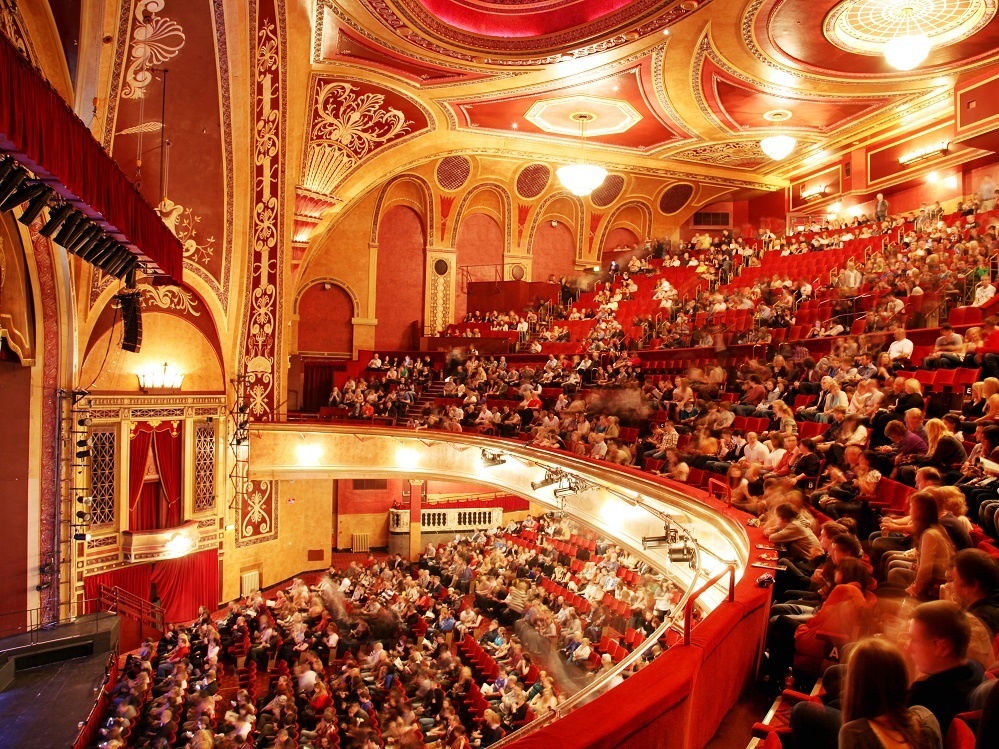 Photo: Claire Jennings
How many events do you host on an average week (including matinees and workshops)?
Typically we would host about 8 performances in the main auditorium, with multiple other events happening around the venue over the week. The venue's Creative Learning department has a Youth Theatre, Youth Dance company and a Mature Movers group that meet every week at the theatre. There can also be numerous bespoke events taking place all over the venue in any given week!
Has there been any recent stand out shows that you can recommend people to keep an eye on?
We hosted the new musical from Take That and written by Tim Firth, The Band in January. It's already a hugely popular show as you'd imagine, but it has such an emotionally powerful story at its core, that I think will take a lot of people by surprise. I'd recommend anyone to see it, even if they're not a huge Take That fan!
What's coming up next that is keeping you busy?
Without a doubt one of the biggest musicals of all time, Wicked, opens at the venue for a four week run from 7 March. We're busy prepping for its opening performances and we can't wait to welcome in the thousands of people that have already bought tickets.
(Get your tickets here)
If you could change one thing about the live entertainment industry, what would it be?
Ticket touts and re-sellers are a continual frustration. It would be great if customers only bought tickets from reputable sellers and outlets.
What's been your proudest moment working at the venue?
For me personally, it would be gaining promotion to the role of Marketing Manager a few years ago. Growing up in the city of Liverpool, the Empire Theatre is an iconic venue and very much a theatre for the people. It was a proud moment to receive the job of leading the marketing team of this venue, that my family and friends have visited for years.
Are there any interesting facts/stories about the venue that people might not know, but should?!
It's hard to believe now, when you consider the success of the theatre in present day, with record breaking tours of shows like Jersey Boys, Wicked and The Bodyguard, but in the late Seventies and mid-Eighties the venue faced closure on a number of occasions. The council even considered replacing the theatre with a car park at one point! Fortunately a board of trustees was formed in 1986, and they sought out a new company to run the venue and undertake extensive refurbishment plans. The theatre has really gone from strength to strength ever since!
Photo: Liz Artindale
---
Track Liverpool Empire Theatre here to keep up to date with all forthcoming events. You can also catch them on their official website, Facebook page, and Twitter, account.