This week, we find out more about ​The Met Lounge, Peterborough.
We spoke to venue owner, Steve Jason, who tells us about how they've become one of the best grassroots venues in the UK, as well as informing us of some great local bands, and why they're waiting on The Darkness for a return visit.
See full listings for ​The Met Lounge here.
Venue details:
​The Met Lounge, 59 Bridge Street, Peterborough, Cambridgeshire, PE1 1HA
Established: 1999
Capacity: 200
Tell us a little about the venue and your role there.
The Met Lounge, we hold 200 people and I own the club!
Has the venue gone through any major changes since it opened (location, renovation, style of music etc)?
We've always been the 'alternative' club for the area. We're open to putting on every genre of music if we think there's a demand for it. However, our weekend club nights have always tried to reflect what the current 'alternative' crowd is into - along with looking after past trends.
How many gigs or club nights a week do you host?
Club nights every Friday and Saturday, open mic every Wednesday, and at least one gig a week.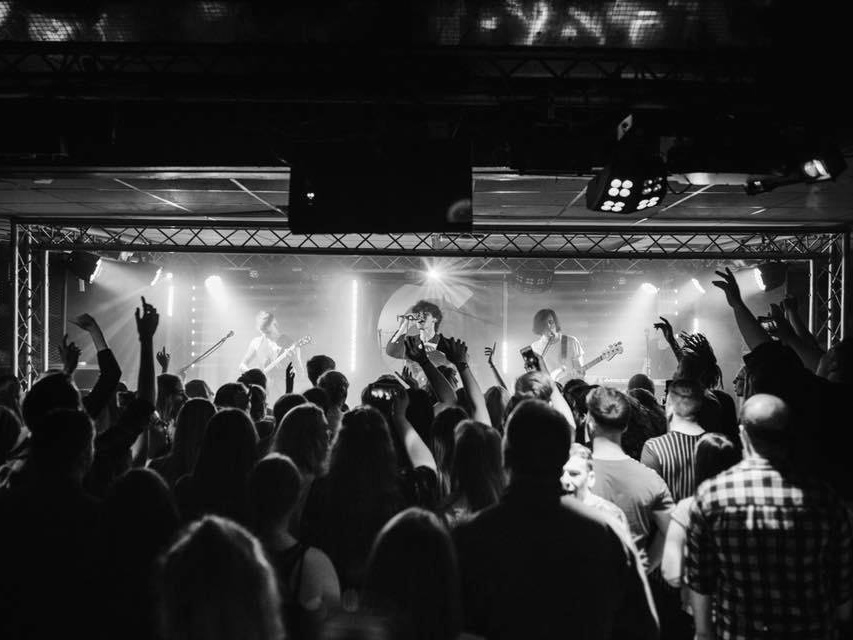 Coasts at The Met Lounge.
Which band that's played your venue has gone on to be the best known?
Where do you want to start? - The Libertines, Snow Patrol, The Darkness, Deaf Havana, Enter Shikari, Parkway Drive, Frank Turner, The Kooks, Example, Biffy Clyro.
Which band that played your venue deserved/deserves to be better known than they are?
Local band wise, We Are Fiction and Dirty Little Faces so nearly managed to break out nationally. I always thought The 22-20s should have done better than they did and we championed a band called Mohair who seemed to have everything in place, but just couldn't make the next step.
Do you host events besides gigs and club nights?
We don't but we're always open to ideas!​
If you could change one thing about the live music industry, what would it be?
I would make bands management/agents understand that it's the small venues that give their new bands a chance - and 90% of the time, you lose money on the show. I would make it a 'rule' that a band returns to the small venue to do a show when they make it. They repay the favour shown by the venue.​​
What's been your proudest moment working at your venue?
Just seeing people have a good time - having many many bands turn round and say 'The best venue we've played on the tour so far' - nearly every time.
What's the best show you've put on recently?
It will be the upcoming hometown show for Idolising Nova 3rd February 2018. Local guys who are getting a real buzz on themselves now.
Anavae at The Met Lounge. Photo: Tim Easton.
Are there any interesting facts/stories about the venue that people might not know, but should?!
​Its been a venue/nightlclub since 1977 - over 40 years - with four name changes so far! Our upstairs bar is the highest bar in the city. Band-wise, The Darkness played their first show here the day after they'd signed to Atlantic Records. We had the head honchos from the record company here to see their 'new big hope'. The day after our show the band were due to go out on tour supporting Def Leppard. On the night, Justin (lead singer) stood on a monitor so he could look over the crowd. He slipped off the monitor, grabbed the ceiling and pulled it down top of him as he fell into the pit between the stage and the barrier. Ceiling tiles everywhere, dust everywhere, he emerged 30 seconds later and carried on playing. He'd cut his hands as he had fell, blood all over them. His brother was going bonkers at him saying that he had put the Def Leppard dates in jeopardy! The management were wondering what they'd signed, and I was concerned about the hole in the ceiling. Afterwards, Justin apologised to me for wrecking the roof. His words were 'We've got no money but I promise we'll come back and play again to pay for it'. Six months later, they were the biggest new band in the country, and we're still waiting for the return date!
---
Track ​The Met Lounge here to keep up to date with all forthcoming events. You can also catch them on their official website, Facebook page, and Twitter account.