This week, we find out more about Southampton's The 1865.
We spoke to The 1865's Jamie Ford, who he tells us about the history of the venue, their favourite gigs, and naughty security staff...
See full listings for The 1865 in Southampton here.
---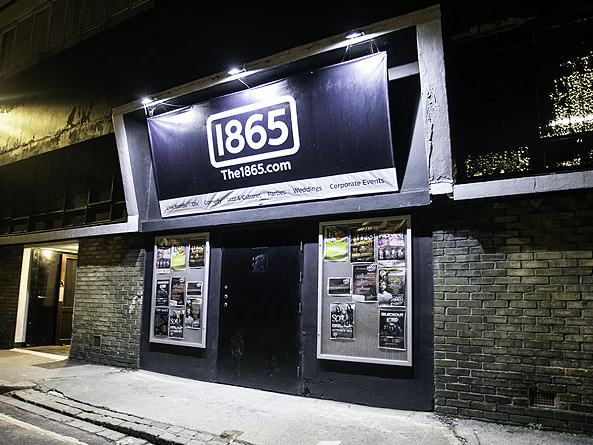 Vital stats
The 1865, Brunswick Square, Southampton, Hampshire, SO14 3AR
Capacity: 750 (Standing) / 325 (Seated)
Established: 2013
The Lowdown: 1865 is Southampton's major new venue, located in Southampton's city centre and with a capacity of more than 750 for standing only gigs, over 500 for club nights, 225 seated for comedy or 300 seated theatre style, 1865 is set to become the city's new destination for entertainment.
Has the venue gone through any major changes since it opened (location, renovation, style of music etc)?
When we first took over the venue it was an old working men's club for the local dockers in Southampton. We wanted to keep most of the look to respect the building's past and to also give the venue some character! However, we did heighten the stage, heighten the arch, take the ceiling out and replace it with acoustic tiling, and of course add a great dnb PA and big lighting rig! We also built an extra bar to help cope with the sell-out shows, and added a smoking area to the side of the building.
Which band that's played your venue has gone on to be the best known?
Well, we've had large bands like Levellers play here (what a gig!), but a band that have seemed to blow up even more after playing The 1865 would perhaps be The Story So Far. On a completely different side of the spectrum, I'm also inclined to say Union J played here just before one of their members went on I'm A Celebrity, Get Me Out of Here. I don't think there was a customer over 16 inside the venue apart from parents. Back to the question, I must also mention Creeper who have done great things since playing The 1865 with Funeral For A Friend back in January 2015.
How many gigs or club nights a week do you host?
Generally 2-4 a week. Sometimes more, sometimes less!
Which band that played your venue deserved/deserves to be better known than they are?
This is a tough one as there is quite a few. Overall I'll go with The View. A close second is Eli Paperboy Reed.
Do you host events besides gigs and club nights?
We hold a vast array of stuff thanks to our versatile venue layout – having a balcony really helps, and so does having our own furniture and storage! We occasionally host Comedy, Theatre and Cabaret/Burlesque, which all work really well. We also host a number of private functions including parties, weddings and christenings! Although live music is our 'bread and butter', it's such a versatile venue we can accommodate nearly anything!
If you could change one thing about the live music industry, what would it be?
One thing that would certainly make things a bit easier within the industry is if people bought records again. It's an easy thing to target, and perhaps a bit of a cliché, but it's true.
Decreasing record sales means that labels aren't offering tour advances to their artists anymore, which inevitably means artist fees have gone up and ticket prices have pretty much stayed the same.
We can't blame the artist, as live music is the main source of revenue for them. We also can't blame the consumer. Maybe the industry should have seen it coming and prepared better than it did.
Has your venue ever been threatened with closure? If so, what could have been done to prevent it/support you?
Not as of yet, fortunately. But, it is a very tough, cut-throat industry with a lot of issues, and unfortunately these issues are forcing many closures up and down the country. I guess that's another conversation. On that note, I recommend everyone check out the amazing work currently being done by Mark and Bev at the Music Venues Alliance!
What's been your proudest moment working at your venue?
Whenever we have a show! I'm pretty proud of what we've achieved here. Cheesy but true. I think the proudest moments are when I'm able to head up on to the balcony and look down at a sold out venue, seeing months of hard work pay off. The most recent one of these was Warren Haynes from Allman Brothers Band – having a star like that within this new-ish venue in Southampton made me very proud.
What's the best show you've put on recently?
I'm going to go with an answer slightly out of the ordinary. On Saturday night (September 10th), we had a polish punk band in called Farben Lehre. It was their 30th anniversary tour - they were a great band! I couldn't understand the lyrics, of course, but the music and attitude was very entertaining. They also performed covers of Anarchy In The UK – Sex Pistols, and a Ramones song too, which was all in English. Southampton's local polish community showed up in full force and it was a show with great atmosphere – it's always great having them in The 1865.
We're due to host 80s rockers Big Country tonight (September 14th), which is a show I've been looking forward to for months. After today, that will be another band to add to the 'underrated' list!
Are there any interesting facts/stories about the venue that people might not know, but should?!
I don't have too much exciting stuff up my sleeve, but a couple things I can share. We did have a security staff member who tried to stop Mark Chadwick from Levellers coming into the venue 5 minutes before their set. It's safe to say we haven't had him back on the doors since! Not exactly infamous, but better than a blank answer!
---
Track The 1865 here to keep up to date with all forthcoming events.
There is also an official website, Facebook page, Twitter, and Instagram accounts.