This week, we find out more about Sanctuary Rock Bar in Burnley.
We spoke to Lisa - owner and founder - who talks to us about hard working bands, the value of live music, and the incredible character it all brings to the venue.
See full listings for Burnley's Sanctuary Rock Bar here.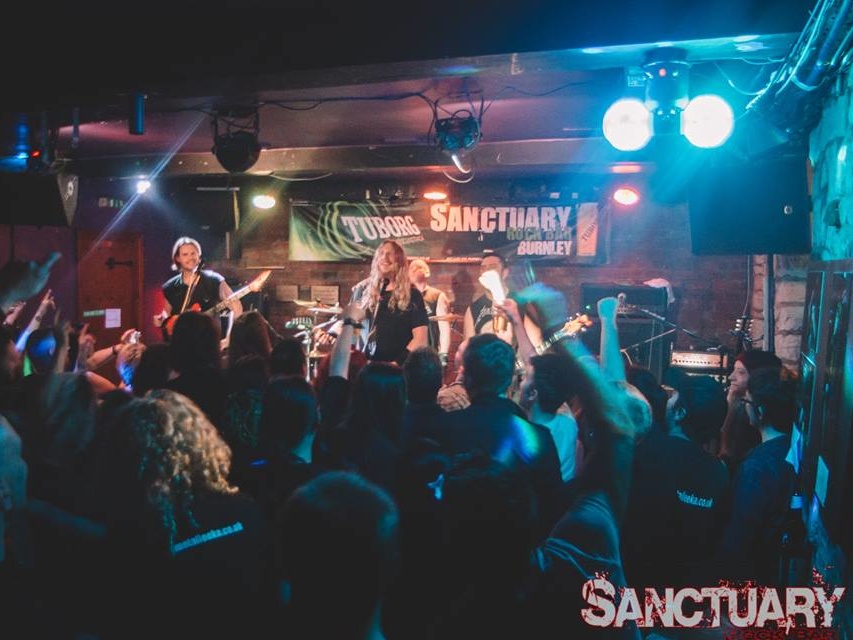 Vital stats
Sanctuary Rock Bar, Cow Lane, Burnley, BB11 1NN
Established: 2005
Capacity: 300 over three floors (150 in the band room)
Tell us a little about the venue and your role there.
I'm the owner and founder of Sanctuary Rock Bar in Burnley, Lancashire. We're a 300 capacity venue, split over 3 floors with 150 cap in the band room. My role is pretty much everything behind the scenes, but predominantly bookings and promotion.
Has the venue gone through any major changes since it opened (location, renovation, style of music, etc)?
A few internally, the main one being the closure of one of our bars after the smoking ban was introduced in 2007. We had a balcony built on the band room and a patio on the ground floor. As there wasn't anywhere for customers to smoke on the top floor, it was pretty much made redundant, leading us to convert it into a chill only area - minus the bar.
With regards to entertainment, we've completely shifted our ethos from when we opened. Originally, we were an originals only rock and metal venue. The scene has changed so much over the years, we've had to adapt to customer demand and now host tribute and covers bands a few times a month, as well as varying genres such as reggae, punk, ska and hip hop.
How many gigs or club nights a week do you host?
We only open on the weekends, so Fridays and Saturdays tend to be live music with an open mic/jam night one Thursday a month.
Which band that's played your venue has gone on to be the best known?
I'd say one of our biggest claims to fame is Evil Scarecrow. They played Sanctuary many times in the past, the last in July 2014, before becoming the well known festival band they are today.
Which band that played your venue deserved/deserves to be better known than they are?
Crikey, that's such a tough question, as we have hosted 1000s of bands over the years, so many of which deserve more recognition. A couple that spring to mind in particular are our Metal to the Masses winners, Bloodyard and Redeye Revival, plus many other bands that have entered the competition over the years – Skeletal Damage, Valyria, Twisted Obsession, Mescina, Today, They Are Older. The calibre of musicianship these days is outstanding. It's impossible to list how many incredible original bands are out there that I would love to see go on to bigger and better things. There are bands playing the Sophie stage at Bloodstock and main stage at Hammerfest, for example, that have played Sanctuary, and it's so good to see them perform at that level.
If you could change one thing about the live music industry, what would it be?
If I could wave a magic wand and get more people to appreciate the value of live music, that would be a dream come true. These days, it's so easy for people to download music, that the live music experience isn't appreciated as much as it should be. There are thousands of musicians out there that quite literally put their heart and soul into what they do, to often play to an empty room or just other bands and venue staff. It's soul destroying for them and for promoters like myself, yet they battle on hoping and waiting for more people to listen to their music, and see them perform. These guys need a lot more recognition for what they do.
Has your venue ever been threatened with closure? If so, what could have been done to prevent it/support you?
Luckily we haven't had any issues as far as licensing or planning that unfortunately a lot of other venues are dealing with these days...touch wood!
What's been your proudest moment working at your venue?
There are too many! My biggest kudos comes from a busy gig, where original bands play to a packed room and everyone is loving it. I often just stand there, at the back of the room with a massive grin on my face, not for me but for the bands. I love seeing them and the customers having a great time. And the feedback and reviews that come from a successful gig that you've put on. Also, seeing the Metal to the Masses winners go on to perform at Bloodstock, knowing that you played a vital role in getting them to the festival. These are definitely my proudest moments.
What's the best show you've put on recently?
In the past week, we've only hosted one live event which was a local band called Barry Garlow and the Good For Nothin's, with support from a local guy, Lawless - who used to be in a band called Metonia. He's recently taken to playing again and had his solo debut at Sanctuary last week. He brought a good crowd down and although he was nervous as hell, he played an outstanding set and the crowd loved it. I think it's safe to say he's got the bug back!
Are there any interesting facts/stories about the venue that people might not know, but should?!
We're a listed building and have had countless reports of 'paranormal' activity over the years. I'm not sure if there is any truth in any of it, but I can definitely vouch for some strange activity whilst I've been in the building on my own. Not exactly music related, but interesting stories nonetheless. It all adds to the character of Sanctuary!
---
Track Sanctuary Rock Bar here to keep up to date with all forthcoming events. You can also catch them on their official website, Facebook page, and Twitter accounts.