Recently, we were asked:
"Which city has the strongest live music scene in the UK?"
So we dug deep into our data to find out.
We list more forthcoming events in the UK than anyone else. Since 2005, our users have been able to track artists, venues and events so that we can tell them when new shows, presales or competitions are announced. We also have details of more than 22,000 active venues listed.
This gives us a great insight into which gigs - and areas - are the most popular.
With a little technical wizardry, we looked at which postcode areas have the most active venues within them to create these two heat maps, showing the results regionally and by postcode area respectively.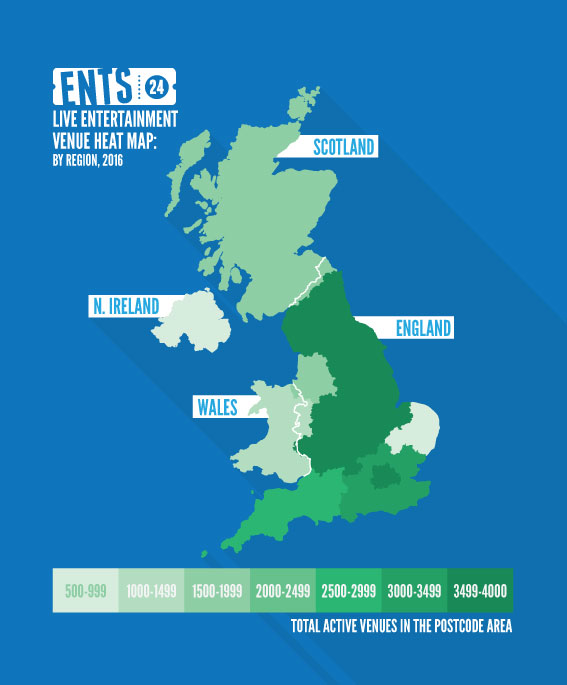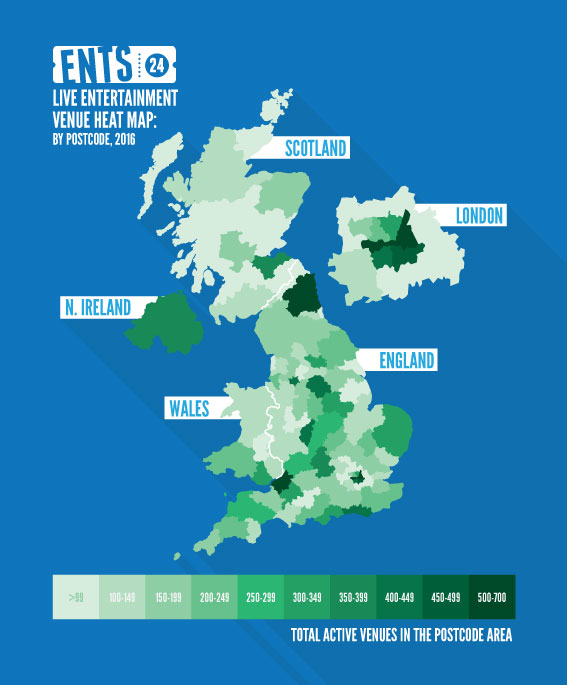 We then factored in the popularity of shows happening in each postcode area, and used population data to weight those scores fairly, creating an Event Popularity Score and a third and final map.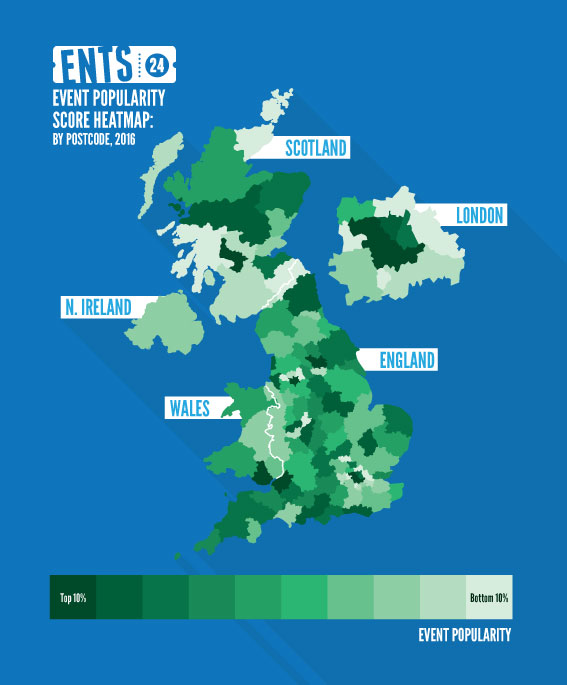 So, back to the original question: Which city has the strongest live scene in the UK?
Central London. Obviously.
But we didn't stop there. Digging through the data, things get a little more interesting.
Manchester has the hottest live scene outside London.
Since March 2015, over 13,000 fans have tracked gigs in the M postcode area on the Ents24 website.
Manchester Arena, O2 Apollo, Academy and The O2 Ritz are the most popular venues in the city centre, followed closely by The Lowry in Salford.
Other major cities represented in the regional top 10 are Bristol, Glasgow, Leeds, Cardiff, Birmingham and Liverpool.
However, Nottingham (14th), Edinburgh (19th) and Sheffield (20th) fail to make the top 10.
Brighton is a surprise entry in 8th place.
With events at no less than 439 venues in the last year, Brighton boasts a huge number of venues relative to its size. The city is also home to The Great Escape, which hosts a weekend of live music across 30 city centre venues. Second and third placed seaside resorts are Blackpool and Southend respectively.
Wolverhampton is another surprise entry in 10th place.
Although it's just 13 miles from Birmingham, the city has its own thriving music scene, thanks in part to three popular council run venues, the Civic Hall, Wulfrun Hall and Slade Rooms along with the Robin 2 in nearby Bilston.
Satellite towns struggle to attract gigs.
Out of the bottom 20 postcode districts on our map, eight are in Greater London, two in the West Midlands (Dudley and Walsall) and two in Greater Manchester (Wigan and Oldham). London's shadow even extends as far as Luton, some 30 miles from the capital. The town has population of over 200,000 but sadly doesn't have a single music venue on the national circuit.
---
Why does this matter?
This information gives artists and the people they work with a snapshot of where gigs are likely to be busier, it backs up some common sense decisions that touring artists have to make.
If live music or comedy are important to you, it might help to inform where you choose to live or study.
If you're involved in putting on events, it might help you to determine where you're more likely to find an active crowd of gig-goers.
It can also help answer common questions, like:
Is it worth playing shows that are closer together if they're likely to be less busy?

If I were to play in four parts of the UK, which should they be?

Which postcode areas contain more venues to choose from?

If I'm playing a gig in Bury and I can only travel for 3 hours to the next show, which direction should I head in?
Another common sense decision for artists and event organisers is to check out Backstage, our toolkit that allows you to add your own events to our listings, submit them for promotion to the people amongst Ents24's audience of millions that live where you're headed and are into the kinds of music you make.
If you like, you can even sell tickets to fans via Backstage, at no extra cost to you: the price you choose for the ticket is the price you receive.
Whether you're playing a pub's back room in the Scottish Highlands or the O2 Arena, we can help you to promote your show to the people that live nearby, or are likely to be into what you do. We already do for thousands of artists in the UK - all for free.
---
Notes:
The Event Popularity Score was determined by dividing the number of event 'tracks' within a postcode area by the number of people living there. Postcodes were then ranked by Event Popularity Score and split into percentiles to create the heat map.
For this study, we defined an 'active venue' as one whose live events are primarily live music or comedy gigs, and one that has listed at least one show in the last 12 months.
For further information, please contact us: blog@ents24.com